MACHINE HEAD NEWS!
September 16, 2007, posted by Crumbs.
ARCH ENEMY Checks In From MACHINE HEAD Tour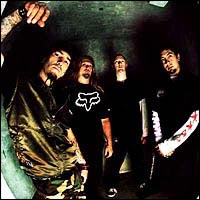 ARCH ENEMY vocalist Angela Gossow has issued the following update from the Black Tyranny Tour, also featuring MACHINE HEAD, THROWDOWN and SANCTITY:

"This tour rocks!

I love watching MACHINE HEAD. It's different from what we do. They are this brutal, angry stomping force of violent grooves. Real sweet people backstage. On stage they are the kind of guys I wouldn't want to meet in a dark alley. Robb Flynn got all this crazy energy, night after night. Reminds me of the good old days with Max in SEPULTURA and Phil in PANTERA. And these guys work out during the day.


Source: Blabbermouth.net
TakeMyScars.com - A Place Dedicated to the Mighty Machine Head!