MACHINE HEAD NEWS!
November 5, 2007, posted by Crumbs.
Video clips from the Australian Black Crusade Tour is available!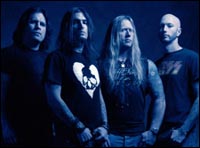 A bunch of video clips, setlists and reviews has been added to the Australian dates of tha Black Crusade Tour that ended in Brisbane on November 3rd. Video clips are added to Perth, Adelaide, Melbourne and the two nights in Sydney. Reviews and setlists are added to some of those shows and more info will get added as soon as we recieve it.

You find all the new goodies here >>

If you have or want to write a review of any Machine Head show, please don't hesitate to contact TakeMyScars.com and we'll add it asap.

Contact TakeMyScars.com here >>


Source: TakeMyScars.com
TakeMyScars.com - A Place Dedicated to the Mighty Machine Head!