MACHINE HEAD NEWS!
October 22, 2012, posted by Crumbs.
Video: Machine Head 'Imperium' Live In Manchester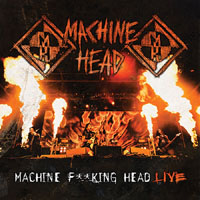 There are few metal bands as brilliantly blistering as Machine Head is live and on tape.

They've reached that level of immortal indestructibility that only Metallica, Pantera, and Slayer can also cop to. That's one of many reasons why Machine Fucking Head Live, their double-disc live epic out November 13, is so crushing. Here is the exclusive premiere of "Imperium", recorded live in Manchester.

"It's insane," smiles singer and guitarist Robb Flynn. "In the recording, you can hear the crowd singing the verses. It's crazy how loud they are. The sing-a-longs on this record blew me away. When we were doing some of these tracks, I had goose bumps. It's crazy how loud our fans are singing every fucking word. It's amazing! It's a very important song. I doubt that there will be a time we don't play 'Imperium'. It was the first thing people heard from Through the Ashes of Empires, and it's a staple at this point."

Check out the video from Europe here >>

Check out the video from US here >>


Source: Metalhammer.co.uk and Artistdirect.com
TakeMyScars.com - A Place Dedicated to the Mighty Machine Head!