MACHINE HEAD NEWS!
October 31, 2011, posted by Crumbs
The Eighth Plague Tour Kicks Off Tomorrow In Oslo, Norway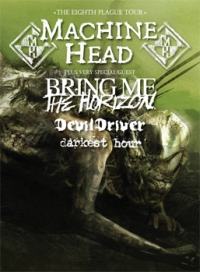 The Eighth Plague Tour with Machine Head, Bring Me The Horizon, DevilDriver and Darkest Hour kicks off tomorrow in Oslo, Norway. Machine Head arrived in Oslo on Saturday the 29th and have had one rehearsal yesterday and will have another one tonight.

The show will kick off at 6.30pm CET and TakeMyScars.com will be in Oslo and in Stockholm on Thursday and cover the events. We will try and make some setlist updates during the shows so check in during the evening for the latest news.


TakeMyScars.com - A Place Dedicated to the Mighty Machine Head!