MACHINE HEAD NEWS!
October 14, 2008, posted by Crumbs
The Blackening Special Edition Trailer Goes Live!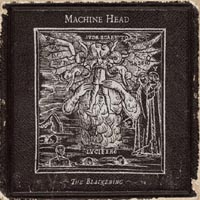 Machine Head are proud to announce the release of the Special Edition version of their Grammy-nominated album "The Blackening"! Hailed unanimously around the world as the best metal album of 2007 by journalists, metal radio stations and fans alike, "The Blackening" Special Edition will deliver the original epic album alongside a wealth of extras, including rare bonus tracks such as a cover of Iron Maiden's "Hallowed Be Thy Name", over an hour of live performance footage from With Full Force, Download and Rock in Rio festivals, three uncensored music videos for "Aesthetics of Hate," "Now I Lay Thee Down" and "Halo," a "making of" featurette for each video and new, expanded artwork.

Plus, what many hardcore fans have been rabidly waiting for, 4 never-before-seen performances of Machine Head celebrating the 10th anniversary of their debut album, Burn My Eyes, captured in Philadelphia in 2004!

Watch the trailer:

TakeMyScars.com - A Place Dedicated to the Mighty Machine Head!