MACHINE HEAD NEWS!
February 22, 2013, posted by Crumbs.
THE GENERAL JOURNALS: DIARY OF A FRONTMAN... AND OTHER RAMBLINGS - Part 7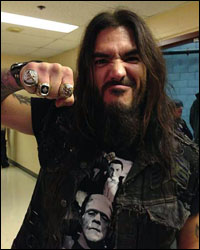 TO THIS DAY PROJECT

Had a lot going on this week, didn't have much time to write, I did catch the movie "Lincoln" (awesome flick, Daniel Day Lewis NAILS IT). Caught the Eagles documentary on Showtime which is ridiculously good, and as a huge Eagles fan, it was very cool to watch all the archival footage.

Linda Rondstat has a quote in there that is so dead on, about bands being "constantly on the verge of breaking up", man, so true.

I also got the chance to catch this short film clip that Genevra showed me on Facebook called the "To This Day Project" by Shane Koyczan.

FUCK!?

Unbelievably powerful stuff. It was inspiring... amazing... it was art. Watching stuff like this makes me want to write music, to create, to share it with the world. I've never really been bullied in the classic sense he's taking about, but I get it.

Man, I GET IT so hard.

Made me cry.

Watch, share, believe.

http://youtu.be/ltun92DfnPY


Subscribe to The General Journals: Diary Of A Frontman... And Other Ramblings
http://thegeneraljournals.hosted.phplist.com/lists/?p=subscribe

Visit The General Journals archive:
http://machinehead1.com/topics/diary


Source: The General Journals
TakeMyScars.com - A Place Dedicated to the Mighty Machine Head!