MACHINE HEAD NEWS!
October 19, 2017, posted by Crumbs.
Sum-up from a new Robb Flynn You Tube Live Session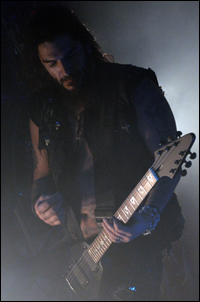 Here's a sum-up of the Robb Flynn You Tube Live on Tuesday, October 17th.:

Machine Head will begin shooting a music video tomorrow for the title track of the new album "Catharsis".

The new album "Catharsis" will have 15 songs and a runtime of 75 minutes. The lable was talking about cutting songs from the album because it was too long.

Robb:
"There is this theme that kind of weaves through out every song and if you broke up the songs then you kind of break up the theme. I don't wanna say it's a concept because that's sounds like really pompus and stupid but.. it's kind of a concept... and it's pompus and stupid (laugh). So it's not a really a concept but it kinda is a concept.

In the end, 15 songs you know, and if you took a piece out, it like messed up the whole flow, like it mixed up the balance. You know we got like some really mellow stuff. I've talked about this numerous times, it's probably the most melodic we've ever been on a record. Definitely the most grooving we've been in a long time. I would say it's maybe the least, maybe not the least thrashies we've ever been but it's the least thrashiest in a while. It definitely got lika a lot of the "Ten Ton Hammer", "Take My Scars" kind of grooves, that kind of vibe. "

It will come in many different versions.

The regular CD (jewel case) will come with a 24-page booklet.

The special edition of the CD (digipak) will include a live DVD from the San Francisco show back from February 21st, 2015 at The Regency Center (21 songs).
Setlist here >>

The will also be a "Super Delux", "Super Limited Edition" version available only via Nuclear Blast mail order. It will be really cool.

Oh, and Robb Flynn is still younger than Mick Jagger and Bob Dylan.

For more information about the new Machine Head album, check out the full clip below:

Source: Machine Head Facebook
TakeMyScars.com - A Place Dedicated to the Mighty Machine Head!