MACHINE HEAD NEWS!
November 3, 2008, posted by Crumbs.
Specal Edition Of 'The Blackening' Lands On Australia's JB Hi-Fi Chart!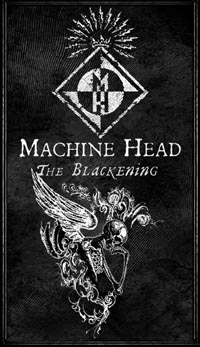 The special edition of "The Blackening", MACHINE HEAD's Grammy-nominated masterwork, has landed on the chart of the Australian electronics and music retailer JB Hi-Fi at position No. 20. The original version of the album entered the official Australian Recording Industry Association (ARIA) chart at position No. 14 back in March 2007.

Hailed unanimously as the best metal album of 2007 by journalists, metal radio stations and fans alike, "The Blackening" earned a Grammy nomination for the fan-favorite track, "Aesthetics of Hate" and all the while MACHINE HEAD continue to earn "the hardest working band" title with over 19 months on the road in support of "The Blackening" (with five U.S. tours alone) and no signs of stopping soon.

"The Blackening Special Edition" is two-disc CD/DVD set that will feature an assortment of extras, including rare bonus tracks such as covers of IRON MAIDEN's "Hallowed Be Thy Name", over an hour of live performance footage from With Full Force, Download and Rock in Rio festivals, three uncensored music videos for "Aesthetics of Hate", "Now I Lay Thee Down" and "Halo", a "making-of" featurette on each video, "The Making of The Blackening" and expanded artwork. There's also what many hardcore fans have been rabidly waiting for: four never-before-seen performances of MACHINE HEAD celebrating the 10th anniversary of their debut album, "Burn My Eyes", captured in Philadelphia in 2004. This special edition is a must have for any fan of this Bay Area band that is steadily carving out "legendary status" for itself within the metal scene.


Source: Blabbermouth.net
TakeMyScars.com - A Place Dedicated to the Mighty Machine Head!