MACHINE HEAD NEWS!
July 29, 2008, posted by Crumbs
SLIPKNOT Announces New Zealand Show with Machine Head!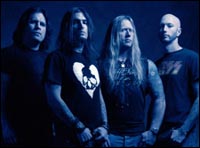 SLIPKNOT will play at The Trusts Stadium in Auckland, New Zealand on October 22. Support at the show will come from MACHINE HEAD.

Tickets go on sale on August 8 through www.ticketdirect.co.nz.



TakeMyScars.com - A Place Dedicated to the Mighty Machine Head!