December 8, 2009, posted by Crumbs.
Robb Flynn On Touring With MEGADETH: 'We Haven't Seen DAVE MUSTAINE At All'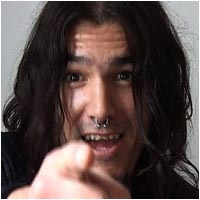 Vince Neilstein of Metal Sucks recently conducted an interview with vocalist/guitarist Robb Flynn of San Francisco Bay Area metallers MACHINE HEAD. A couple of excerpts from the chat follow below.

Metal Sucks: How's the MEGADETH tour going?

Robb Flynn: It's going good, man. We're about a week into it. Most of the shows have been sold out. It's pretty awesome, man. Tours and metal have been getting crushed lately, so it's been cool. It's trippy. We haven't seen [Dave] Mustaine at all, it's like he's a ghost. It's kind of trippy to be on tour with the band and you never see them.

Metal Sucks: Does he have all his own personal handlers and never really shows his face at all? He comes out, does his show, and that's it?

Robb Flynn: Yeah, kind of, I guess. He's a smart dude. This is a business arrangement. We aren't friends or anything. MACHINE HEAD is worth a lot and he knows it. It's good to have us on, and it's good to be touring with Megadeth. It's a business arrangement, so it's cool. It makes it easier in some ways.

Metal Sucks: Have you actually heard [MEGADETH's] new record ["Endgame"]? What do you think of it?

Robb Flynn: It's rocking, man. It's really good. It's one of the most… for our band, it's probably the one we play the most in rotation. We toured with them on the last record too. There are only a couple of songs off that [previous record, United Abominations] that I like. This one is solid. The production is amazing. It's probably the best sounding, heaviest MEGADETH record in a long time. Chris Broderick is ripping it, good songs, nice thrash beats, and Mustaine's riffing out again. It's cool.

Metal Sucks: So seeing as you know those guys, and you've toured with METALLICA and SLAYER, what do you make with all of the feuding that's going on between those bands at the moment?

Robb Flynn: It makes for good reading.

Metal Sucks: [Laughter] Good answer.

Robb Flynn: [Laughter] I mean, come on, who doesn't want to hear that? It's been going on for years. The funny thing is when we were doing the The Canadian Carnage tour which was four months ago, we're friends with some of the MEGADETH dudes and we're friends with the SLAYER dudes, and that was the first kind of squashing of the peace, if you will. I was hanging out with Kerry [King, SLAYER guitarist] on the last night of the tour. We did five dates or whatever, so on the last night we're hanging out and getting hammered. I walked over to Shawn Drover, the drummer of MEGADETH, and said, "Hey come on and hang with us." He's like, "I don't know. I don't want a weird [vibe]." I'm like, "It's fucking [inaudible]. Just come on with us." So I walk him into the SLAYER dressing room, and I introduced him and they were like, "Oh, hey, how's it going?" and he was like, "Oh, hey, how's it going?" They were just meeting for the first time. They've been on tour for a week and a half and were just meeting for the first time. It was an interesting sight. It's been a great feud. It's lasted for so long. You still see [Dave] Lombardo [SLAYER drummer] making comments like he wants to give Lars [Ulrich, METALLICA drummer] lessons or something. I was like, "Maybe Lars can teach you not to blow smoke up your own ass in the process."

Metal Sucks: To what extent do you think that's real and to what extent do you think that they're trying to make a Blabbermouth headline or whatever?

Robb Flynn: I don't know. To me, I don't see METALLICA needing to make those comments. It's not like Lars is out there taking shots at Lombardo for slopping up the "Angel of Death" roll. I don't think he has to care.

Read the entire interview from Metal Sucks.


Source: Blabbermouth.net