MACHINE HEAD NEWS!
December 12, 2013, posted by Crumbs.
Phil Demmel Talks Next Album In 'The Vault' Interview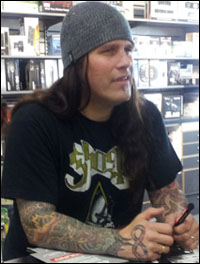 In The Vault With Shanda Golden" (web site) recently conducted an interview with MACHINE HEAD guitarist Phil Demmel and Chris Cannella, guitarist for AUTUMN'S END and product manager and artist relations manager for Jackson Guitars. You can now watch the chat below.

MACHINE HEAD will enter the studio in February 2014 to begin recording its new album for a late summer release via the band's new label, Nuclear Blast Entertainment. Tentative songtitles set to appear on the CD include "Killers & Kings", "Beneath The Silt", "Ojos De La Muerte", "Sail Into The Black" and "Night Of The Long Knives".


Source: Blabbermouth.net
TakeMyScars.com - A Place Dedicated to the Mighty Machine Head!