MACHINE HEAD NEWS!
April 17, 2013, posted by Crumbs.
Phil Demmel Clinic Tour in Gothenburg, Sweden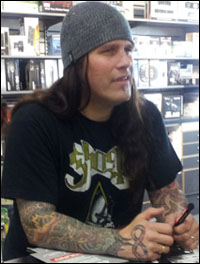 TakeMyScars.com had the opportunity to attend at one of Phil Demmel clinic tour stops in Gothenburg Sweden at 4Sounds music store. Phil was in a fantastic mood and joked around a lot with the small crowd who were there. He played three Machine Head songs, Wolves, Aesthetics of Hate and This is the end. He told some stories inbetween the songs like when he met Dimebag at Download in 2004 and a funny bit on why he can't play any other guitars than Jacksons. He also did two song that he had co-written with Chris Cannella from Jackson gutars.

After the "show" Phil walked around in the store, signing stuff, taking pictures and talked to the fans. He mentioned that Rob and Dave is home demoing right now. They have four complete songs and a few other fragments that is on its way to turn into songs. Machine Head are planning to hit recording in October and is aming for a March 2014 release. But remember, nothing is written in stone so these dates might change. Regarding touring Machine Head will only do North America this year.

[Watch images and clip below]


Phil Demmel Clinic Tour:

Stockholm @ 19:00 - Tonight
4SOUND
S:t Eriksgatan 58.
Stockholm

Paris (Juvisy Sur Orge) @ 19:00 Thursday 18th
MUSIC ESSONNE
50, Avenue d'Estienne d'Orves
91260 JUVISY SUR ORGE

La Garde @ 17:00 Friday 19th
STEEL MUSIC
151 Chemin Alphonse Lavallée
83130 La Garde (South of France)

Brighton @ 18:30 Saturday 20th
GAK
79-80 North Road
East Sussex
BN1 1YD
Brighton

Glasgow @ 14:00 Sunday 21st
Guitar Guitar
36 Trongate
Glasgow
G1 5ES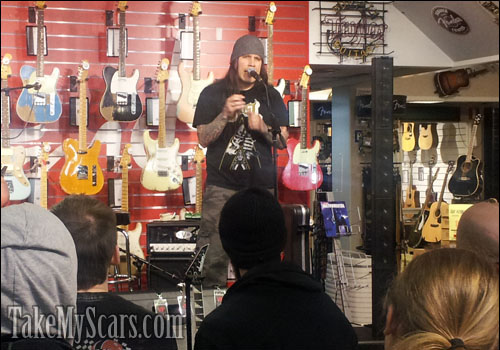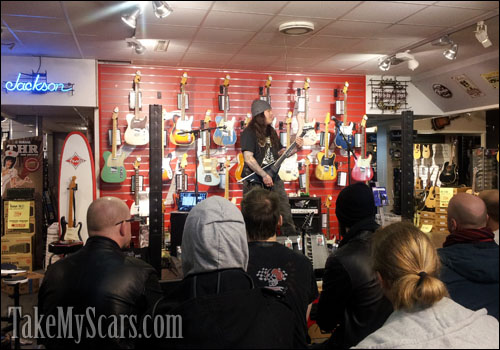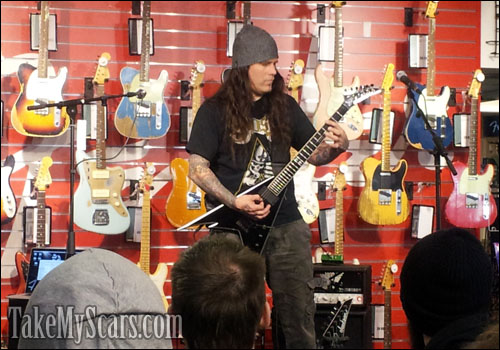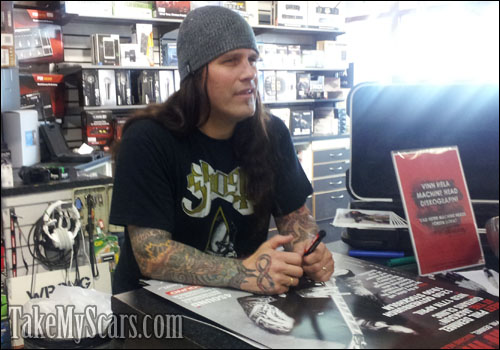 Source: TakeMyScars.com
TakeMyScars.com - A Place Dedicated to the Mighty Machine Head!