MACHINE HEAD NEWS!
December 17, 2007, posted by Crumbs.
Official "Black Crusade" sum-up!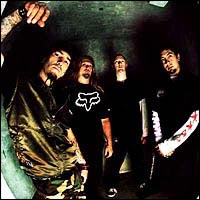 Machine Head guitarist Phil Demmel, having flown back to the States less than a week prior to mourn the loss of his father, returned Friday night for the final show of The Black Crusade tour in Helsinki, Finland, capping off an incredible tour and incredible year for the band. Having received an enormous amount of help in his absence, and in essence salvaging Machine Head's ability to even finish the remainder of the tour, various guitarists from the other bands on The Black Crusade filled in on various songs to help the band complete the last 4 of the 5 shows.

* Corey Beaulieu from Trivium played on "Clenching The Fists Of Dissent", "Imperium" and "Aesthetics Of Hate".
* Frédéric Leclercq, the bass player from Dragonforce filled in on "Old".
* Matt Heafy from Trivium played on "Halo" and "Take My Scars".
* Christopher Amott from Arch Enemy played on "Descend The Shades Of Night", and...
* Matt Heafy returned again for "Davidian".

All of them did an amazing job, and Machine Head can't thank them all enough for the help they gave, especially at such an incredibly difficult time. Respect.

Singer / Guitarist Robb Flynn wishes to offer his apologies to the people of Stockholm, Sweden for his inability to move during Tuesday night's performance at The Arenan as he was suffering from food poisoning and the flu. He was enduring severe vomiting and diarrhea before and after the show, and required 4 different medications and an intravenous glucose feed 3 hours prior to the set just to be able to perform.

Machine Head wish to sincerely thank the nearly 70,000 fans who came out to make The Black Crusade such a huge success (with several promoters calling it the biggest tour to hit the UK and Europe since the legendary Clash Of The Titans Tour 15 years ago), and for making it all such an amazing experience through and through. Much respect to the all of the bands on the tour as well for pulling together to make this such an unprecedented bill. Our sincerest thanks.

A video clip with backstage and live footage is available:

Source: MachineHead1.com
TakeMyScars.com - A Place Dedicated to the Mighty Machine Head!