MACHINE HEAD NEWS!
November 29, 2009, posted by Crumbs.
New interview with Phil Demmel posted online!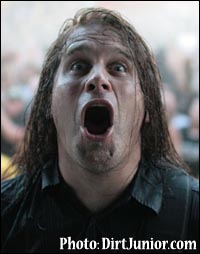 Seventeen years ago, American groove metal band MACHINE HEAD was founded by Robb Flynn and bassist Adam Duce in Oakland, California. The band delivered a solid debut in 1994 with Burn My Eyes (featuring Chris Kontos on drums) and followed that up with The More Things Change ('97), which introduced drummer Dave McClain, The Burning Red ('99), and Supercharger ('01).

Entering into the picture officially in 2003, lead guitarist Phil Demmel (who had played with Flynn in the earlier Bay Area thrash act VIO-LENCE) soon became regarded as one of modern heavy metal's elite, having played brilliantly on Through The Ashes Of Empires ('03) and 2007's
undisputed masterpiece The Blackening.

The Metal Den's Randy "Rocket" Cody recently conducted an interview with
Phil Demmel Of MACHINE HEAD for his loyal army of Den Headz worldwide.

Read the full interview here >>


Source: The Metal Den
TakeMyScars.com - A Place Dedicated to the Mighty Machine Head!