MACHINE HEAD NEWS!
November 5, 2014, posted by Crumbs
Metal Hammer track-by-track guide to Bloodstone & Diamonds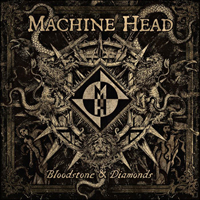 The long-awaited follow up to Machine Head's Unto The Locust is coming our way on Monday, so to get your ears all excited and giggling like schoolkids we thought we'd run through it track by track to let you know what you're in for.

Now We Die
Unless youíve been living in an isolated cave in Siberia, with no electricity and awful taste in music, you will already have heard this thunderous opening track. Seven minutes of prime Machine Head at their crushing, adventurous best, itís an instant classic that already sounds as timeless and thrilling as Davidian, Imperium or Clenching The Fists Of Dissent. Modern metal seldom sounds any more distinctive or powerful.

Killers & Kings
The first song to be released from Bloodstone & Diamonds, albeit in slightly more primitive demo form, Killers & Kings was aired on Machine Headís recent run of intimate UK dates and it was routinely greeted like an old friend. Does anyone else channel the ferocity and might of classic thrash in such an effective and idiosyncratic way? The answer youíre looking for is FUCK NO. Brutality and melody in perfect, riotous harmony.

Ghosts Will Haunt My Bones
One of Machine Headís greatest strengths is their ability to maintain obscene levels of heaviness while weaving vast quantities of subtlety and texture into their songs. GhostsÖ is a sublime example of that skill in action, with its brooding, melancholy verses, monumental crescendos and a chorus that instantly demands raucous audience participation. Itís six minutes long but feels like half that amount. Immense.

Click here for full guide >>


TakeMyScars.com - A Place Dedicated to the Mighty Machine Head!