MACHINE HEAD NEWS!
January 26, 2011, posted by Crumbs.
Metal Hammer Want Machine Head to Headline Download Festival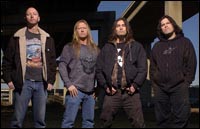 Metal Hammer-Writer "Beez" want Machine Head to headline this summer's Download Festival in the UK. Beez: "-For me, there's only one band for the job and that's Machine fucking Head."

Beez:
The main cause of concern appears to be that Download are still to name their last headliner. There are names rolling around on the rumourmill (Muse, Rush, Van Halen, Paramore, My Chemical Romance….all of the names you'd expect to see) but there's only one name that screams out to yours truly.

The bottom line is that Sonisphere have already pulled three magic headliners out of the bag. Bitch all you like about Biffy, they're only topped by the Foo Fighters at what they do and even if you don't vibe on them, you'd have to be a twat of immeasurable proportions to moan about Slipknot's return to the stage after the Paul Gray territory and the first UK appearance from The Big Four.

Their back-catalogue gets a lot of love from most who have grew up with Nu-Metal but, with all of the will in the world, it's widely regarded that the latest Linkin Park album stinks worse than one of Adrian Chiles's farts. That means that the last Download headliner is absolutely crucial in this year's festival war.

For me, there's only one band for the job and that's Machine fucking Head.

If you're thinking about popularity in terms of record sales or even recent ticket sales (the venues on the band's Black Procession tour may have been modest in comparison to Linkin Park's recent arena run but it's worth considering that it was their sixth visit to our isle on 'The Blackening' touring cycle), you're completely missing the point.

Machine Head headlining the worldwide spiritual home of metal would be an event. It'd be a genuine "bring the DVD out, buy the shirt, tell your kids you were there" event that would go down in history as a landmark moment for a band that have been brought to the mountain top by the British metal community.

They've got no 'radio hits' but go to any rock club across our great isle and everyone knows every syllable to 'Imperium', 'Aesthetics Of Hate', 'Ten Ton Hammer', 'Old' and every motherfucker knows exactly how you let freedom reign. They're a band that have built a legacy through years of top-quality metal, not by ever being 'flavour of the month' or being the leaders of any kind of hip scene. They've always stood alone as Machine fucking Head and for 16 years, metalheads of all ages have loved them for that exact reason.

I'll often refer to Machine Head as the people's metal band. Metallica were the band of the people until the mainstream took to the band under their wing in '91 and that baton was passed on to Pantera. Since Pantera called it quits in the early 2000's, Machine Head have been the band that the metal fraternity as a whole have taken to their hearts. Who do you know that doesn't like Machine Head? What sort of dick stain doesn't turn into a rabid rottweiler when those first couple of notes to 'Davidian' drops?

From the Bloodstock die-hards to the casual metalheads, Machine Head are a band that aren't just liked, they're loved like they're our family here in Britain. A family that would show up like an army to see a band that truly represent us bring their A-game to the biggest dance of them all.

Rumours suggest that they're going to be on the road with the Rockstar Mayhem festival this summer so we know they're active. Give them a call, Coppo! You know it makes sense.


Source: MetalHammer.co.uk
TakeMyScars.com - A Place Dedicated to the Mighty Machine Head!