MACHINE HEAD NEWS!
April 1, 2013, posted by Crumbs.
Mayhem Memories: Phil Demmel tries to remember 2011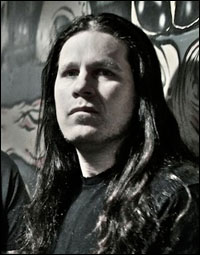 As this summers Mayhem Festival draws near, the Machine Head boys recount tales of mayhem and debauchery in a new blog series called "Mayhem Memories".

This week: Phil Demmel tries to remember 2011.

Mayhem memory?

It's more of what people remind me that I did one fateful night in Chicago. It all started with our friends from Soil playing a one-off on the Jager stage and raging on (literally) their bus. The drinking started a bit earlier that day so by the time the Underoath-sponsored Cornhole Tournament (a beanbag tossing game) rolled around, Ivan from 5FDP and I were donning red/white/ and blue Evil Kneviel Helmets and bashing bottles over our heads.

Since that wasn't enough, I proceed to impersonate a Bull and knock over all the garbage cans in the parking lot with my head and, rumor has it, tackled a Port-a-Potty like it was game-saver at the goal-line. I guess I had forgotten to take my laptop out of my bunk before I poured into it, and woke up to a cracked screen.

Needless to say this started a 7 month sober period for yours truly. THANKS MAYHEM!!!!!


Source: MachineHead1.com
TakeMyScars.com - A Place Dedicated to the Mighty Machine Head!