MACHINE HEAD NEWS!
January 11, 2016, posted by Crumbs.
Machine Head to release a new song, "Is there anybody out there?"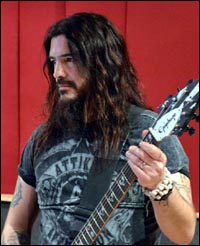 Robb Flynn was this weeks guest at Hatebreed's vocalist Jamey Jasta's long-running Podcast "The Jasta Show".

Jamey:
In this episode I am joined by Robb Flynn (Machine Head). We discuss retiring San Diego, his decision not to do festivals any more, his experience selling drugs before Machine Head was signed, Roadrunner Records, Blabbermouth, Slayer, his beef with Kerry King, his decision to do an evening with shows, and his banishment from Disney.

Robb Flynn talks about the new song:
We're gonna release a new song at the beginning of the year, and it's just gonna be digital, it's gonna be a single song. It's gonna be a... just on Spotify, probably iTunes but not any physical product around it.

[snip]

But this new song, that we got coming out is, you know back to what you were talking about the positivity or negativity in the world. I... this new song it's called "Is there anybody out there?"... and.. i did the same thing. Like right after the "La Bataclan" thing. I was like, I re-wrote a bunch of the lyrics. I was like fuck. I'm just... this needs to be bigger than that. This needs to be and I don't wan't it to be... you know I see what you are saying about like the hate thing. I think right now, it's fucking crazy.

Listen to the podcast here:
"The Jasta Show" Podcast Episode 151 with Robb Flynn

The part where Robb talkes about the new song starts at 1.30.45


Source: The Jasta Show
TakeMyScars.com - A Place Dedicated to the Mighty Machine Head!