MACHINE HEAD NEWS!
January 20, 2012, posted by FotherMucker99.
Machine Head confirmed for Woodstock Festival Poland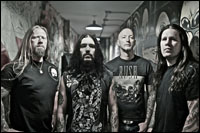 Woodstock Festival Poland confirmed Machine Head for its 2012 edition held in the town of Kostrzyn on the Oder in Poland. The festival is held on August 2nd 2012.


Source: www.en.wosp.org.pl
TakeMyScars.com - A Place Dedicated to the Mighty Machine Head!