MACHINE HEAD NEWS!
January 18, 2010, posted by Crumbs
Machine Head Use Metallica As Inspiration On "The Black Procession" Tour!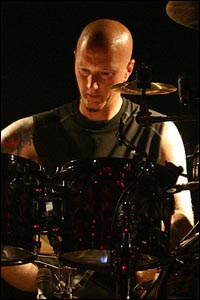 Dave McClain has confirmed that you can expect some rare gems on their upcoming 'The Black Procession' tour!

Machine Head drummer Dave McClain has admitted that the band have used Metallica for inspiration when picking the set-list for their upcoming UK tour.

"After 3 years of touring "The Blackening", a lot of the shows we've done have been opening slots of 30-45 minutes, so we're really ready to get out there and do a proper headline show," says McClain.

"As for new additions to the set, we've been throwing around songs that we either haven't played in a LONG time or never at all! A really cool thing we loved that Metallica was doing when we supported them was to always do some different songs than the night before. We have fans that come out for multiple shows and doing at least a few different songs than the previous night will help make it more exciting for them AND us!"

Machine Head will blitz the UK with Hatebreed, Bleeding Through and All Shall Perish in support next month!


TakeMyScars.com - A Place Dedicated to the Mighty Machine Head!