MACHINE HEAD NEWS!
September 18, 2014, posted by Crumbs
Machine Head Postpone North American Tour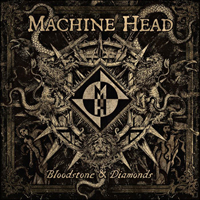 It is with great disappointment that Machine Head must announce the postponement of our North American tour this fall. Our new album "Bloodstone & Diamonds" has taken longer to complete than expected and we had to make the difficult choice to either delay the album, let it go out as incomplete, or cancel the tour in order to properly finish and promote the album in the caliber it needs to be done. We decided postponing the tour was the best decision for the record.

We feel this record is a milestone, we feel we have something truly special here, but getting there has been a challenge. Our vocalist / guitarist Robb Flynn just returned from a press tour where he was playing rough mixes and incomplete versions of songs for the press just to try and keep everything on time for our November release date.

Refunds will be available for tickets at point of purchase.

Look out for rescheduled American tour dates for the beginning of the year.

All scheduled European tour dates will remain as scheduled.

Machine Head release their 8th album "Bloodstone & Diamonds" (and their first for Nuclear Blast Entertainment) on Nov 7th - EU, and Nov 10th in the U.S. and U.K.

Track listing is as follows:

MACHINE HEAD - BLOODSTONE & DIAMONDS

1. Now We Die
2. Killers & Kings
3. Ghosts Will Haunt My Bones
4. Night Of Long Knives
5. Sail Into The Black
6. Eyes Of The Dead
7. Beneath The Silt
8. In Comes The Flood
9. Damage Inside
10. Game Over
11. Imaginal Cells (Instrumental)
12. Take Me Through The Fire


TakeMyScars.com - A Place Dedicated to the Mighty Machine Head!