MACHINE HEAD NEWS!
May 2, 2012, posted by Crumbs.
Machine Head Joins The 2012 Mayhem Festival Cruise - Complete Details Revealed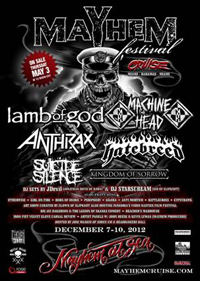 The maiden voyage of the most crushing cruise on Earth sets sail on Friday, December 7, 2012 from the Port of Miami, FL and travels to the Bahamas, returning to the mainland on Monday, December 10th aboard the Carnival Imagination!

Tickets go on Sale THIS THURSDAY, May 3rd, 2012 at 12 NOON EST on MayhemCruise.com with packages starting at $699 and payment plans available. Get them before they're "lost at sea"!

Hosted by Jose Mangin of Sirius XM Liquid Metal, fans will experience a blistering 90-minute set from each one of these killer heavy metal bands: LAMB OF GOD, MACHINE HEAD, ANTHRAX, HATEBREED, SUICIDE SILENCE, and KINGDOM OF SORROW—as well as additional showcase sets from Century Media, Metal Blade Records, Roadrunner Records and Sumerian Records artists including GOJIRA, PERIPHERY, BORN OF OSIRIS, BATTLECROSS, OTHERWISE, GIRL ON FIRE, ANTI MORTEM, and GYSPYHAWK. Mayhem veterans JDevil (Jonathan Davis of KORN) and DJ Starscream (Sid of SLIPKNOT) will also perform full DJ sets each night! There's more to this voyage than heavy metal impaling your eardrums!

Come hang with Clown (of SLIPKNOT) as he curates his own art show on the cruise, as well as hosts to FANGORIA'S VIDEO NASTIES FILM FESTIVAL.

"FANGORIA is thrilled to be working with the Mayhem Cruise! The mix of heavy metal music and horror films should provide for an epic adventure on the high seas!" - Bekah McKendry, Fangoria Entertainment Laugh along with ROCKSTAR ENERGY DRINK MAYHEM FESTIVAL's comedian BIG JAY OAKERSON and THE LEGIONS OF SKANK featuring LUIS J. GOMEZ and DAVE SMITH, who are set to perform two raunchy and raucous stand-up shows each night!

Enjoy daily artist panels with stories from the road and music industry tips! Speakers include ROCKSTAR ENERGY DRINK MAYHEM FESTIVAL co-creators John Reese and Kevin Lyman, amongst other musical icons.

Check out the Neo-Burlesque dance troupe IRON FIST VELVET GLOVE CARNAL REVIEW. See the diverse and sexy dancers in an edgy underground setting.

Other entertainment on board will include:

- Beachers Madhouse
- A full casino featuring a three-night poker tournament with artists and fans side by side
- Meet & Greets, signings, and photo-ops throughout the ship

For more information, visit MayhemCruise.com!


Source: Machinehead1.com
TakeMyScars.com - A Place Dedicated to the Mighty Machine Head!