MACHINE HEAD NEWS!
December 15, 2008, posted by Crumbs.
Machine Head In "Gutar Hero: Metallica"!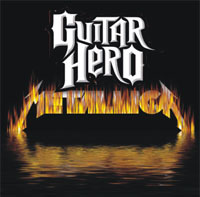 Yes, we know, it's the worst kept secret in rock-n-roll but we're here now to finally confirm that there will indeed be an all-Metallica Guitar Hero game released in the first half (!?) of 2009. Guitar Hero Metallica allows you to play as us in either single instrument or band career game modes in your choice of some famous settings (Tushino Airfield anyone?) or new venues with in the round staging. Included are 28 Metallica songs along with a few from some of our buddies like as Alice in Chains, the Foo Fighters, Slayer, Machine Head and Queen. There is also an all new Expert+ difficulty setting featuring two bass drum kick pedals (!!!) along with all the gameplay modes from Guitar Hero World Tour.

Over the next few months, we're going to be updating you with track listings, more features, of course how and when you can get the game, and some cool previews of the game right here on the site. As you've heard us say before, keep checking back for more details!

Rumored Guitar Hero: Metallica tracks:

Songs by METALLICA:

* "Enter Sandman"
* "For Whom The Bell Tolls"
* "Fuel"
* "Hit The Lights"
* "King Nothing"
* "Master of Puppets"
* "No Leaf Clover"
* "Nothing Else Matters"
* "Sad But True"
* "The Unforgiven"
* "Where I May Roam"

Songs by other artists:

* "No Excuses" by ALICE IN CHAINS
* "Turn The Page" by BOB SEGER
* "Hell Bent For Leather" by JUDAS PRIEST
* "Demon Cleaner" by KYUSS
* "Tuesdays Gone" by LYNYRD SKYNYRD
* "Blood and Thunder" by MASTODON
* "Armed and Ready" by MICHAEL SCHENKER GROUP
* "Mother of Mercy" by SAMHAIN
* "Black River" by THE SWORD
* Additional songs from MACHINE HEAD, FOO FIGHTERS, QUEEN and SLAYER


Source: Metallica.com
TakeMyScars.com - A Place Dedicated to the Mighty Machine Head!