MACHINE HEAD NEWS!
January 18, 2010, posted by Crumbs.
MACHINE HEAD & SLIPKNOT Members Perform PANTERA Classic At "NAMM Jam"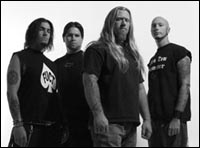 Video footage of members of SLIPKNOT, MACHINE HEAD, HELLYEAH and WALLS OF JERICHO performing a cover version of PANTERA's classic "Walk" during the the "Dean Guitars 2010 NAMM Jam" concert on January 15 at The Grove Of Anaheim in Southern California can be viewed below.

The following musicians took part in the "Walk" performance:

Corey Taylor (SLIPKNOT, STONE SOUR) - Vocals
Robb Flynn (MACHINE HEAD) - Guitar
Phil Demmel (MACHINE HEAD) - Guitar
Nick Bowcott (GRIM REAPER) - Guitar
Bob "Zilla" Kakaha (HELLYEAH, DAMAGEPLAN) - Bass
Dustin Schoenhofer (WALLS OF JERICHO) - Drums


Source: Blabbermouth.net
TakeMyScars.com - A Place Dedicated to the Mighty Machine Head!