MACHINE HEAD NEWS!
July 16, 2010, posted by Crumbs
MACHINE HEAD Interviewed On Australia's "1700"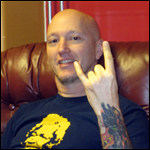 Tegan Butler of Melbourne, Australia's "1700" conducted an interview with guitarist Phil Demmel and drummer Dave McClain of San Francisco Bay Area metallers MACHINE HEAD when the band played in Melbourne on March 25, 2010. Watch the chat below.






TakeMyScars.com - A Place Dedicated to the Mighty Machine Head!