MACHINE HEAD NEWS!
February 12, 2010, posted by Crumbs
MACHINE HEAD Fan Performs With Band In Vienna - Video Available!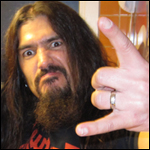 A MACHINE HEAD fan — and aspiring guitarist — joined the San Francisco Bay Area metallers on stage at their February 10 concert at Gasometer in Vienna, Austria to perform the song "Aesthetics Of Hate" with the four members of the band. A guy in the crowd had a banner that said "Let Me Play 'Aesthetics Of Hate' — Seriously, I Can Play It". MACHINE HEAD guitarist/vocalist Robb Flynn asked bassist Adam Duce whether they should invite the fan up on stage and give him a chance to show off his skills. Flynn then said "Let's do it!" and gave up his axe for the song and just sang for the entire track while the fan played Robb's guitar.

Fan-filmed video footage of the performance can be viewed here >>


TakeMyScars.com - A Place Dedicated to the Mighty Machine Head!