MACHINE HEAD NEWS!
May 29, 2008, posted by Crumbs.
'Halo' Video To Premiere On 'Headbanger's Ball' This Saturday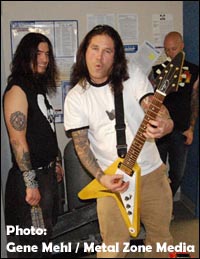 Tune in to MTV2's "Headbanger's Ball" this Saturday, May 31 at 11:00 p.m. PT/ET for the exclusive world premiere of the MACHINE HEAD's new video, "Halo".

The "Halo" video shoot took place on April 3 in San Francisco. Directed by Mike Sloat ("Aesthetics of Hate", "Imperium", "Days Turn Blue to Gray") and shot entirely in front of a green screen, the footage was all digitally manipulated to mimic the style of the artwork from the packaging for MACHINE HEAD's new album "The Blackening".

Check out photos from the video shoot at this location.


Source: Blabbermouth.net
TakeMyScars.com - A Place Dedicated to the Mighty Machine Head!