MACHINE HEAD NEWS!
April 8, 2008, posted by Crumbs.
Halo Video Shoot Photos!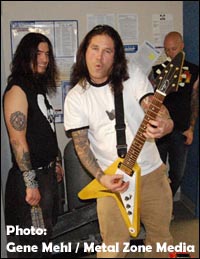 Fans from around the world answered the casting call to be a part of Machine Head's upcoming video for the song "Halo", and it was a raging success!

Directed by Mike Sloat (Aesthetics Of Hate, Imperium, Days Turn Blue To Gray) and shot entirely in front of a green screen, the footage will all be digitally manipulated to mimic the style of the artwork from the packaging for Machine Head's new album "The Blackening".

With shooting set to wrap up in the next few days, you can plan on seeing the new video sometime in May!

For photos from last Thursday's shoot and a sneak peek at what you can expect to see, head on over to the Photos page of the official site!


Source: Machinehead1.com
TakeMyScars.com - A Place Dedicated to the Mighty Machine Head!