MACHINE HEAD NEWS!
March 3, 2014, posted by Crumbs.
First Clip From "Mitch Lucker (Suicide Silence) Tribute DVD" Feat. Robb Flynn & Randy Blythe *UPDATED*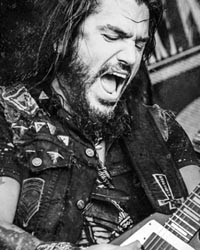 Here's the first clip from the upcoming Mitch Lucker (Suicide Silence) tribute DVD, and it features some very, very special guests.

The DVD was filmed at last year's tribute show, which was put together by Mitch's bandmates following the Suicide Silence singer's shocking death in November 2012, and features performances from a huge array of Mitch's friends and peers, with all proceeds going towards funding the education of Mitch's young daughter.

The DVD – which will be available as a CD/DVD digipack and CD/Blu-ray combo pack – will be released on March 17 in Europe, but you can watch Lamb Of God frontman/living metal legend Randy Blythe blaze through an amazing version of You Only Live Once below. Look for for a cheeky cameo by Robb Flynn on guitar, too!

The official "Suicide Silence - Ending Is The Beginning: The Mitch Lucker Memorial Show" listing is as follows:

01. Destruction Of A Statue (with Jonny Davy)
02. Distorted Thought Of Addiction (with Greg Wilburn)
03. Ending Is The Beginning (with Brook Reeves)
04. Bludgeoned To Death (with Ricky Hoover)
05. Unanswered (with Phil Bozeman)
06. Girl Of Glass (with Myke Terry)
07. Price Of Beauty (with Danny Worsnop)
08. No Pity For A Coward (with Johnny Plague)
09. Disengage (with Cameron "Big Chocolate" Argon)
10. No Time To Bleed (with Burke VanRaalte)
11. Smoke (with Anthony Notarmaso)
12. Wake Up (with Tim Lambesis)
13. March To The Black Crown
14. Slaves To Substance (with Eddie Hermida)
15. OCD (with Austin Carlile)
16. Fuck Everything (with Chad Gray)
17. Die Young (with Robb Flynn)
18. Roots Bloody Roots (with Max Cavalera)
19. Engine #9 (with Mitch Lucker)
20. You Only Live Once (with Randy Blythe & Robb Flynn)

Suicide Silence – You Only Live Once (Ft Randy Blythe & Robb Flynn)

Source: Metal Hammer
TakeMyScars.com - A Place Dedicated to the Mighty Machine Head!