MACHINE HEAD NEWS!
November 9, 2012, posted by Crumbs.
Disney Decision Sparks Outrage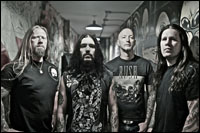 Outrage from fans and the media has begun boiling over Disney's latest decision to ban Machine Head yet again from a House Of Blues venue located on Disney property. Read on for a sampling.

From Loudwire.com:
Machine Head are currently on tour with Dethklok, All That Remains and the Black Dahlia Murder. With a lineup that is sure to both draw and excite metalheads, one unfortunate part of the United States is going to miss out on the full show, as Machine Head have been banned from ever performing on property owned by the Disney corporation. Thus, the Orlando, Fla. stop of the tour on Dec. 4 will be Machine Head-less.

In 2007, Walt Disney Properties banned Machine Head from the 'House of Blues' venues in both Anaheim, Calif., and Orlando, the respective cities that are home to Disneyland and Disney World. Machine Head were banned by the company to due the band's "violent imagery," "inflammatory lyrics" and the group's "undesirable fans."

These accusations come from the company that created 'The Lion King,' which features antagonist Scar plunging his claws into his brother Mufasa's paws before allowing him to fall from a cliff only to be trampled to death by a heard of wildebeest. Disney also included the song 'Savages' in the film 'Pocahontas,' where the character Ratcliffe sings the lyrics, "They're savages! / Barely even human … Dirty redskin devils," about Native Americans.

"Violent Imagery?" Check. "Inflammatory lyrics?" Massive check.

Additionally, the entertainment company was happy to allow Motorhead to write the song 'Dog-Face Boy' for the animated film 'Bolt,' surely in an attempt to appeal to those same "undesirable fans" and lure them into movie theaters worldwide.


Source: Machinehead1.com
TakeMyScars.com - A Place Dedicated to the Mighty Machine Head!