MACHINE HEAD NEWS!
July 29, 2011, posted by FotherMucker99.
Dave McClain interviewed by metalexiles.com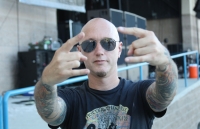 Jeffrey Easton of metalexiles.com interviewed Dave McClain at a recent stop of this year's Rockstar Energy Drink Mayhem Festival.


Metal Exiles: A few months ago you released the Black Procession for Record Store Day. What does that mean to you?

Dave McClain: It was something cool to do, something different. I like going to record stores and seeing new stuff on vinyl, it seems like it is getting popular again. I grew up in the record store age so I liked listening to records and checking out the cover. I could recite you the Iron Maiden "Killers" album cover. It was cool to do something like that and put out Machine Head vinyl again.

Metal Exiles: I know your label mates Opeth as well as yourselves were asked to do this. How did you get involved?

Dave: We were asked to participate as we had some live tracks from our last show in Australia so we put those out.

Metal Exiles: It has been a long time since The Blackening came out. What has held up a new record besides touring?

Dave: We toured for three years on the Blackening and when we got off the road last year we went our separate ways. We needed some family time and to decompress or do whatever before we got back in writing mode. When we did get back together it was for a few days a week to see what we had going on and as the songs started building we were practicing more. We wanted to get in and write the record but we did not want to rush it but this Mayhem tour came on our radar so we gave ourselves a deadline to get into the studio and get it done so we got pretty busy towards the end of last year.

Metal Exiles: Considering the length of time you spent on the road for The Blackening, do you feel with record sales the way they are that it is necessary to stay out on the road longer?

Dave: The Blackening kept doing better so it just snowballed for us. Seven years before we did not know if we were going to be a band so we were just soaking it in. Then Metallica came around the last year and a half of our tour so we did some random dates with them then it turned into a full blown tour. Now with record sales the way they are it is all based around live shows so it is good that we can keep touring and keep it going.


Read the whole interview here >>>


Source: metalexiles.com
TakeMyScars.com - A Place Dedicated to the Mighty Machine Head!