MACHINE HEAD NEWS!
August 22, 2011, posted by FotherMucker99.
Dave McClain interviewed by away-team.com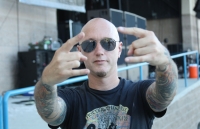 Here's a nice written interview with Dave McClain from the Raleigh, NC stop of the Rockstar Energy Drink Mayhem Fest on August 3rd.


Thanks to The Frontlines user Tom Vader for the heads up!


Away-Team: I'm sitting backstage at Mayhem Fest with Dave McClain from the Bay Area's Machine Head. Thanks Dave for your patience while we navigated through the ridiculousness that was the venue trying to get the gates open an hour late. Let's just get right into it shall we?

Dave McClain: Absolutely man, no problem.

Away-Team: Machine Head released The Blackening in 2007 to critical praise. To many, myself included it was the album of the year, and again for myself it was the best album Machine Head has ever put out.

Dave McClain: Awesome, wow! Thank you.

Away-Team: There was a ton of press overseas that embraced you and the album and sang the praise of Machine Head and The Blackening. While the US press didn't seem to even acknowledge Machine Head even existed. It seemed to me that you guys couldn't even get arrested here. What is it about Europe and their fans that seem to embrace metal so openly and fully, and yet the states can seem to be bothered with it? What I'm asking is… Is it the fans that feed the media over there or the media embracing the music and opening up the fans to it?

Dave McClain: It's something you really can't put your finger on here. You go anywhere else in the world and it's the same mentality as when we were all kids getting into metal. When I started getting into Judas Priest and Iron Maiden and the New Wave Of British Heavy Metal back then… I think it's the same thing here now, it's a sub culture a community of misfits that latched on to this type of music and to this day around the world people simply live for this music. There are so many different things going on in the States to take your time and attention. It is so big over here territory wise that it's harder to get to everyone or get everyone together for larger shows. Where Germany is the size of Texas and we can spend a week just in Germany hitting thousands and thousands of people, where in Texas there is a lot of empty space between towns and we're playing to hundreds of people instead. There are so many types of music pushed here in the states and so many of those avenues don't promote metal, I think Revolver is pretty much the only US magazine that promotes metal. And they are warming up to Machine Head now which is cool. There definitely was a while there in the US before The Blackening even where we couldn't get any attention at all. We were sitting there like, 'come on man, we're right here!' and they were just, 'No thanks we're going to go cover hip hop' or whatever. So now, Through The Ashes was the record that finally kicked the door in a little and got our foot in. And The Blackening was the one that re-established us. It is getting better here; we are definitely NOT giving up on the US. We've never been that band in the US that's just exploded! It's always just been a fight for us, and that's cool to us. Back in the day when gold records mattered we'd still be playing the same size venues as bands that had gold records. But it is coming around again now. Thank god for festivals like this. That are really band friendly and people like John Reese the guy that puts this thing on (John Reese is co-creator of Rockstar Mayhem Fest) loves metal, he tours with the festival, gets the bands together and has theme parties during the tour for the bands. It's very cool to have the organizer be that involved with the tour and with the bands on that level. And then today with the internet the way it is, any interview you do can go anywhere, be read or heard anywhere in the world now. So that helps a lot in getting the word out about Machine Head.


Read the whole interview here >>>


Source: www.away-team.com
TakeMyScars.com - A Place Dedicated to the Mighty Machine Head!