MACHINE HEAD NEWS!
June 8, 2015, posted by Crumbs
Dave McClain With An South American Update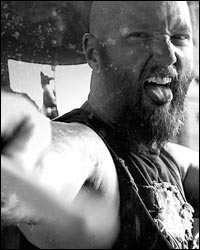 From Dave McClains Official Facebook-page:

Good morning (afternoon), Sao Paolo, Brazil! This last week has been nothing but amazing! Buenos Aries took the South American tour to a new level with constant sing alongs! Montevideo almost didn't happen because of THREE cancelled flights causing us to take an hour long ferry, a 2 1/2 hour bus ride and going on stage at 1am after our bad ass crew got the show up and running in record time! The show had a special vibe and you could see the appreciation in the faces of the crowd!

And, last but definitely not least...Sao Paolo! You guys brought it last night and I can safely say we did too! It was ELECTRIC in that place! What a great experience the past few weeks has been! Meeting fans from Mexico, Colombia, Chile, Argentina, Uraguay and Brazil has been humbling to say the least! Sounds cheesy but I'm honored to do what I do. To say I'm living my dream is almost wrong, because I had no idea that when I was a kid and wanted to be a "rockstar" that it would be as good as this! I saw being on an album or a magazine as "making it". That's all just barely scratching the surface of being a "rockstar". That's all too easy! This is the stuff that "making it" is all about and I'm very lucky and happy to have "made it"!

Now off to New Zealand, Australia,Japan,Thailand and Taiwan!


TakeMyScars.com - A Place Dedicated to the Mighty Machine Head!