MACHINE HEAD NEWS!
February 19, 2008, posted by Crumbs.
Dave McClain Thanks Fans For Their Support!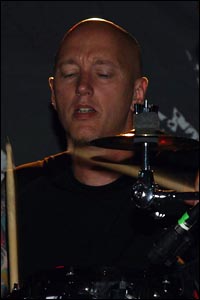 MACHINE HEAD drummer Dave McClain — whose mother passed away last week — has issued the following update:

"Thank you to everybody for their nice words and condolences about my Mom. Me and my sister read most of them together after the service and she wanted to also say thank you.

"As alot of you know, she was a fixture at many of our Texas shows and loved meeting MH fans. They even called her 'Mom' and took pictures with her and also had her sign autographs!

"This wasn't just a MACHINE HEAD thing. She would attend alot of my shows through the years. She was so supportive about me playing music. She would always refer to me as 'the best drummer in the world.' Maybe it was a little biased, but that was just her way of inspiring me to always keep doing what I love to do... play music.

"Another thing she would always say was 'what can I do for YOU?' That was just the way she was, always wanting to do or say nice things to people. It didn't matter if it was a family, friends or a person she didn't even know.

"Let me tell you about the last minutes with my Mom and 'what she did for me.' My sister had called me and told me she might not make it another day or two. I got the first flight out of Green Bay, and while waiting for my cab to the airport, she called and said she might not make it through the hour. I got off the bus and just kneeled down in the frozen parking lot and my sister put the phone up to my Mom's ear and I got to tell her I loved her one last time. Minutes later my sister told me she was gone. We both just cried on the phone and I felt something I've never felt before. Total sadness and complete happiness at the same time. That moment has helped me through this hard time. Me, my sister and my stepdad Jim are the luckiest people in the world to have had her in our lives.

"I love you, Mom."


Source: MH Official Boards
TakeMyScars.com - A Place Dedicated to the Mighty Machine Head!