MACHINE HEAD NEWS!
August 25, 2008, posted by Crumbs.
DAVE McCLAIN On Touring With METALLICA: 'We Couldn't Be More Honored'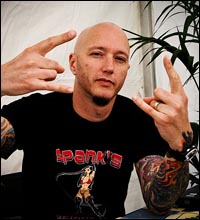 MACHINE HEAD drummer Dave McClain recently spoke to the Artisan News Service about the band's upcoming U.S. dates with METALLICA.

"Holy crap. Touring with METALLICA in January," he said. "We went through, it's pretty well documented on our DVD, 'Elegies', when we were talking about where we were as a band. There was a period where nobody wanted to really touch us. We said back then when the band went through this weird dark period, and when we came out of it one of the things we said was, 'We need to get to a point where a band like METALLICA says 'We need to take that band on tour,'' and this year that whole thing happened, man. It's surreal."

He also talked about how he'll be forever grateful for the opportunity.

"METALLICA does not need MACHINE HEAD to open up for them to bring people into the arena. They are doing us the biggest favor that anybody could ever do for a band. It puts you in front of an arena full of people that potentially you can win over. That's amazing. That speaks volumes for the dudes that they are. We couldn't be more honored. We couldn't be more... We're blown away by it."


Source: Blabbermouth.net
TakeMyScars.com - A Place Dedicated to the Mighty Machine Head!