MACHINE HEAD NEWS!
October 18, 2007, posted by Crumbs.
Black Tyranny Tour Ends With a Bang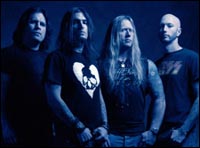 The reign of Black Tyranny has come to an end. Machine Head and Arch Enemy have wrapped up their co-headlining tour with special guests Throwdown and Sanctity — but they didn't close the curtain without first pulling all the stops.

At the final gig at the Avalon in Los Angeles:

During Throwdown's set, Machine Head frontman Robb Flynn joined the band onstage on second guitar for a cover of Sepultura's "Roots Bloody Roots."

Machine Head closed their set with their first ever single "Davidian." The song featured Anthrax 's Scott Ian on guitar, and back-up vocals by Arch Enemy growler Angela Gossow, Bleeding Through singer Brandan Schieppati and members of Sanctity. During the song, Throwdown vocalist Dave Peters and drummer Ben Dussaut hopped onstage and dove into the crowd, and Machine Head guitarist Phil Demmel also demonstrated his stagediving pwowess.

Celebrity guests at the event included, Slayer guitarist Kerry King, Ex-Strapping Young Lad and Dark Angel drummer Gene Hoglan, Fear Factory guitarist Christian Olde Wolbers and drummer Raymond Herrera, Bleeding Through keyboardist Marta, ex-Eighteen Visions bassist Mick Morris, ex Kittie guitarist Lisa Marx and Bam Margera.


Source: HeadbangersBlog.mtv.com
TakeMyScars.com - A Place Dedicated to the Mighty Machine Head!