MACHINE HEAD NEWS!
August 13, 2011, posted by Crumbs.
Artisan News Have Posted a New Video Interview With Robb Flynn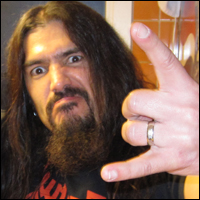 Artisan News have posted a new video clip with Robb Flynn where he talks about taking guitar lessons and vocal lessons to help them get to the next level with their new album Unto The Locust, and he said Mayhem and Iron Maiden are to thank for that.





Source: YouTube
TakeMyScars.com - A Place Dedicated to the Mighty Machine Head!