MACHINE HEAD NEWS!
December 22, 2010, posted by Crumbs.
30 years of Roadrunner: Phil Demmel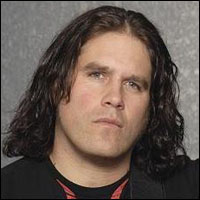 2010 marks the 30th anniversary of Roadrunner Records, and as we close out the year in celebration, we're looking back on the last three decades with a little help from our friends.

With so much history and so many influential artists to note in our big anniversary and extensive catalog, we're turning it over to Machine Head shredder Phil Demmel to answer some quick questions on 30 years of music, survey-style!

In 30 years you will be…
I will be golfing and playing in a cover band up in Lake Tahoe. Retired and enjoying the fortune my son has earned as a professional anything-he-wants-to-be.

Best music moment of the last 30 years.
Seeing Randy Rhoads twice w/ Ozzy in the early 80's. Witnessing Metallica grow from local clubs into one of the biggest bands in the world, firsthand. Headlining the Wacken festival in front of 85,000 people and then being whisked away by private plane to play w/Metallica and NIN at Knebworth the next day and killing it at both shows. Maybe the two best Machine Head performances since I joined the band in 2003.

Crappiest moment in music in the last 30 years.
Losing Randy Rhoads so early in his career. Especially the way it happened. So sad.

Album from your generation that will be legendary in 30 years.
Metallica- Black Album (Self-Titled) and Guns and Roses - Appetite for Destruction

Roadrunner classic album.
Sepultura - Arise

What makes it a classic?
Such a fusion of so many genres of music. So brutal and very influential on Machine Head. A very important record.

Machine Head are currently working on their seventh studio album and follow-up to 2007's The Blackening. The new album is due for a 2011 release... stay tuned for more details coming soon.


Source: Roadrunnerrecords.com
TakeMyScars.com - A Place Dedicated to the Mighty Machine Head!