MACHINE HEAD NEWS!
December 7, 2007, posted by Crumbs.
12 New Video Clips with Robb Flynn!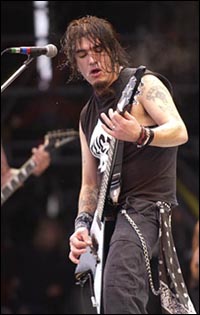 FaceCulture spoke to Robb Flynn about Adam Duce's broken leg, teaching his won songs to the replacement, doing covers, Metallica, Master of Puppets, Battery, The Blackening being a Master of Puppets, creative freedom, his past with bassist Phill Demmel, Vio-lence, Phil joining Machine Head, metal bands sounding the same, Iraq, war, big companies, Bob Dylan, Beautiful Morning and lots more!

Check 'em out here >>


Source: Faceculture.nl
TakeMyScars.com - A Place Dedicated to the Mighty Machine Head!