MACHINE HEAD NEWS!
August 14, 2012, posted by Crumbs.
Pro-Shot Footage Of Entire BLOODSTOCK OPEN AIR Performance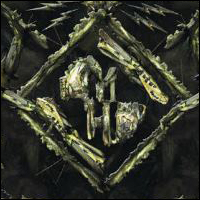 Professionally filmed video footage of MACHINE HEAD's entire August 11 performance at this year's edition of the Bloodstock Open Air festival, which was held at Catton Park, Derbyshire in the United Kingdom can be seen below.

Fans were given the unprecedented opportunity to influence MACHINE HEAD's setlist at this year's Bloodstock Open Air. Commemorating the 20th anniversary of the band's first-ever live performance at their roadie Mike "Scum"'s getting-evicted-from-his-house party — for which they performed five songs — the band gave Bloodstock ticket holders the opportunity to vote for the five "Burn My Eyes" songs they most want to hear MACHINE HEAD play during their headline set earlier tonight, with the five that receive the most votes included in the setlist.


Source: Blabbermouth.net
TakeMyScars.com - A Place Dedicated to the Mighty Machine Head!