MACHINE HEAD NEWS!
October 5, 2011, posted by Crumbs
"Unto The Locust" Hits #22 In The U.S.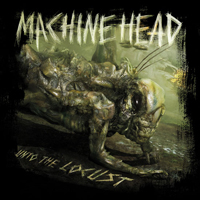 Amidst a slew of new releases this last week, Machine Head jumps 32 spots up the Billboard charts and into the top 25 for the first time in the 17 year history of the band, landing at #22 on the Billboard Top 200, and #19 on the Billboard Digital Charts (digital sales accounted for a whopping 35% of the total number)! On top of that, with over 17,000 copies sold, "Unto The Locust" has officially scanned more in its first week than any other Machine Head release before it! Even more impressive, this is the third consecutive album to show at least a 20% increase in sales over the last, a virtually unprecedented feat for any band or artist, let alone a metal band in 2011. Add to that the fact that Machine Head's last release was four and a half years ago, a period of time that has seen the music market drop by more than 45%, and you're looking at something amazing.

Roadrunner A&R Guru Monte Conner gushed about the band's achievement in the U.S. stating simply that "It's really incredible to see Machine Head gain in both first week sales and on the Billboard Top 200 for 3 albums in a row. I can't think of one other band here, or anywhere for that matter, that has done that given the tough climate in the music biz over the last few years. This is quite a feat and is a testament to the band's rabid fanbase as well as their ability to win new fans." Machine Head have consistently averaged 100,000+ albums sold in the U.S. for 7 albums in a row and sell double that same consistent number overseas (accruing several Silver Records in the UK), tallying their worldwide sales at more than 2.4 million.

Canadian chart positions came in as well today, and again, marking the highest scans and chart positions the band has ever seen, with a #32 on the National Chart. Worldwide chart positions were posted yesterday with no less than four Top 10 spots being occupied:

Germany: #5
Austria: #6
Australia: #10
Switzerland: #10
France: #13
Japan: #18
New Zealand: #19
U.S. #22
Belgium: #22
Norway: #28
Canada #32
U.K.: #82 (DIGITAL ONLY due to Fanpack)


TakeMyScars.com - A Place Dedicated to the Mighty Machine Head!