MACHINE HEAD NEWS!
March 15, 2008, posted by Crumbs
Ultra-Rare "Fuck It All" Video Posted Online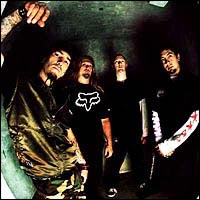 MACHINE HEAD's ultra-rare video for the demo song "Fuck It All" (a.k.a. "Block") has been posted on YouTube and can be viewed below. The clip, which is believed to have been shot in 1993 before MACHINE HEAD got signed to Roadrunner Records, was directed by Jerry Allen of Metallian Productions and was originally made available on the "Tales from the Pit" video magazine.

The MACHINE HEAD lineup featured in the video includes drummer Tony Costanza, who was replaced by Chris Kontos prior to the recording of the band's classic debut, "Burn My Eyes".


TakeMyScars.com - A Place Dedicated to the Mighty Machine Head!