MACHINE HEAD NEWS!
December 8, 2011, posted by Crumbs.
UNTO THE LOCUST Voted The Best Roadrunner Records Album of 2011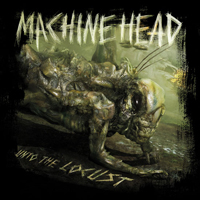 The time has come to reveal the top twenty in our Roadrunner Records Albums of 2011 poll, as voted for by you, the fans! You can see the results below, from twenty right through to number one.


#1 Machine Head 'Unto The Locust'
How do you follow 'The Blackening'? How do you turn your brain back to writing an album after four solid years of touring the world? If there's one band who had the answers to both those questions, it's Machine Head, and their response was nothing short of sensational. In the eyes of fans, journalists, even Satan himself, this is an album so entirely without fault, to hear a negative word said about 'Unto the Locust' somehow doesn't work. It's an impervious album. Bullets bounce off it. The tracks are so towering King Kong would run out of puff trying to climb them. With 'The Blackening', Machine Head had proved it was possible to come from recording a cover of 'Message In A Bottle' to a position of almost unparalleled respect in metal circles - and let's be honest, that's no mean feat. With 'Unto The Locust', the band finally scored their names into the arms of metal history like a rabid fan with a Stanley knife.

Check out the full list here >>



Source: Roadrunnerrecords.co.uk
TakeMyScars.com - A Place Dedicated to the Mighty Machine Head!