MACHINE HEAD NEWS!
April 23, 2010, posted by Crumbs.
Twitter Update From Robb Flynn!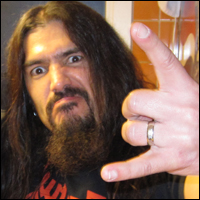 It's pretty calm with Machine Head news right now but yesterday Robb Flynn updated his Twitter page with the following message:

Whoa! Just taught my 5 1/2 year old how to play Darth Vader's theme on the guitar!! AWESOME!!

His first song ever on guitar!!!

Maybe Machine Head will hire another gutar player for the next album...


Source: TheGeneralMH
TakeMyScars.com - A Place Dedicated to the Mighty Machine Head!