MACHINE HEAD NEWS!
October 12, 2010, posted by Crumbs.
Total Guitar Readers Honor "Halo"!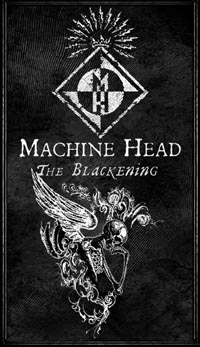 Total Guitar magazine recently asked their readers to vote for the greatest guitar riffs of the last 10 years, celebrating the resulting Top 50 list in a special "Monster Riffs" edition of the magazine on UK newsstands now, and coming in at #8 is none other than Machine Head's "Halo"! For more on the feature and the magazine

The poll generated the top 50 ultimate guitar riffs from the last decade, leading to some interesting results without the influence of more classic rock pre-2000; with bands such as Green Day, Kasabian, Biffy Clyro, Elbow, AC/DC, Metallica and Red Hot Chili Peppers all making the top 50.

British band Muse managed to take two spots in the top 5 with 'Knights of Cydonia' and 'Plug in Baby', alongside American rock band Avenged Sevenfold, Velvet Revolver, Dream Theater, Queens of the Stone Age, The White Stripes, Machine Head and The Killers who made the rest of the top 10.

Lead guitarist Matt Bellamy's decade-defining riff is deceptively difficult to play according to Total Guitar magazine, with extreme attention to detail required for such a technically complicated riff.

Total Guitar – Greatest guitar riff of the 21st century

1. Plug in Baby – Muse
2. Slither – Velvet Revolver
3. Afterlife – Avenged Sevenfold
4. The Dark Eternal Night – Dream Theater
5. Knights of Cydonia – Muse
6. No One Knows – Queens of the Stone Age
7. Seven Nation Army – The White Stripes
8. Halo – Machine Head
9. Mr Brightside – The Killers
10. Beast And The Harlot – Avenged Sevenfold

Stephen Lawson, Editor of Total Guitar magazine said:

"I think Muse won because Matt Bellamy is a guitar hero for the 21st century. He's genuinely innovative, a real creative type who comes up with unique guitar parts. I'm sure it helps that his riffs are catchy too. This poll proves that modern rock is just as exciting, as chock full of brilliant riffs as classic rock was. Is 'Plug In Baby' as great a riff as (I Can't Get No) Satisfaction? You bet it is!"

For the full run-down on the greatest guitar riffs of the 21st century, check out the latest issue of Total Guitar magazine, on sale 1st October priced at £4.99. The 'Monster Riffs' special also shows guitarists how to write their own riffs, as well as featuring an interview with 'The Human Riff' Keith Richards.


Source: Machinehead1.com
TakeMyScars.com - A Place Dedicated to the Mighty Machine Head!