MACHINE HEAD NEWS!
October 25, 2008, posted by Crumbs.
Third Preview Clip from "The Blackening SE": Davidan Live in Rock in Rio Lisbon 2008!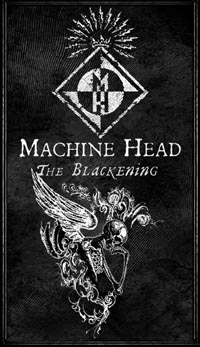 Here's a live clip for "Davidian", our second video premiere from Machine Head's bonus DVD, that comes with from the upcoming deluxe reissue of The Blackening, which comes out October 28. But first here's frontman Robert Flynn to talk about to Rock in Rio shows, where the clip was filmed. Take it away Robb.

Since I'm sitting here in New Zealand jet-lagged to all hell at 3:24 a.m., I am more than happy to talk about about the show we shot the vids at. The Rock In Rio show was really friggin' amazing for a few reasons. We had been doing dates with Metallica overseas, and this was the final show, so there was a little bit of a celebratory vibe in the air. The other thing is that this was the first time it had ever been held in Portugal instead of Rio where it traditionally takes place.

The already borderline psychopathic lunatics of Portugal, were just about foaming at the mouth by the time the we got there to do press at 3 p.m. Lisbon is definitely one of our favorite cities to play. We f–kin' love it because it is one of the most insane, violent, loud, passionate audiences in the world!! My fondest memory of Lisbon is the time we headlined there before Rock In Rio in 2004. After the show I walked in front of the barricade, where the clean up crew had swept up everything, and I s–t you not, in front of the barricade was a 30 foot wide by one foot high, pile of hair from people thrashing so f–king hard. That's how friggin' nuts these guys are!!!!

Now take that same audience and multiply it times 30, and this is the concert footage you are about see, Rock In Rio and Portugal… You kick ass!!!!


Source: http://headbangersblog.mtv.com
TakeMyScars.com - A Place Dedicated to the Mighty Machine Head!