July 5, 2013, posted by Crumbs.
The General Journals: The Heat Is On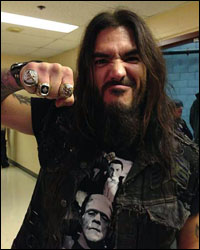 I just looked at my last Journal entry, it's been 3 weeks... 3 WEEKS!!!??? Where does the time go? All I do know is it has been the craziest, most hectic 21 days I can remember having in a very long time.

Amongst the things I've been doing include; finalizing an entire line of new merchandise, finalizing an entirely new stage set, getting the full headline set rehearsals in, showing Jared the little nuances of Machine Head songs, trying to remember all the things I need to take on a summer tour after having 6 months off, layering in parts and vocals for the still unfinished demo we have, and squeezing in being a dad and husband somewhere in there, and in all honesty probably not doing a very good job of it.

We just wrapped up show number 7 in Auburn, Washington (or as one of the lunatics shirts in the pit read "MOSHINGTON", LOL!), it was a killer show, man I love Washington, freaks, stoners, meth heads, all just ready to rage and have a good time. Night before that was in Nampa, Idaho, where it was 106 degrees outside, but man those people went for it! It was a rager!! I love playing in places like this, people are starving for it. They don't get bands very often unless it's country crap, so it's a big deal to them. Because of that the shows are often incredible for both the fans as well as the band themselves.

The tour started off on the other side of the state in Spokane, Washington. I flew in the night before, Phil flew in day of show, but the rest of the crew/band left a day before that on the bus, and just like what happened on the Dethklok tour, right as the bus passed thru Eugene Oregon, it broke down, AGAIN, in the same exact place we broke down last time!!!?? McClain was like "This area is the Bermuda Triangle for busses and Machine Head!!"

This time they were able to get the bus fixed, they pull up to the venue at 7:30 PM for a show were supposed to play at 9:15, and somehow, our insanely amazing crew got all the gear up and running and miraculously, we hit the stage by 10 PM. Not only was this the first warm-up show after a six month break, but we were playing our first show with new guy Jared MacEachern. So right off the bat he gets his first taste of the chaos of being in Machine Head, LOL!! I'm SO glad we [band and crew] pulled it off, because as always, Spokane was fucking killer! Total die hard metal heads up there, they love it.

Portland, Oregon was up next, and it was great to finally make it up to them after missing them on the Dethklok run. On the day off we stayed in a really cool area of Portland that I had never been to called Lower Burnside. This is a young music-centric part of town with lots of one-of-a-kind shops that are totally worth checking out. The show itself was way sold-out, shit it was way over-sold and I'm guessing 115 degrees onstage and it was easily the best, rowdiest headline show we've ever played in Portland. People were losing their minds. We saw our buddy and former Terror guitarist Doug Weber and had a good party sesh after. All the local openers were rockin', and we got hooked up by the guys in Proven with some cool merch. Thanks dudes!

Fresno was coming up next and Mayhem the following day and I still had a ton of stuff to prepare for and pick up. So the next day myself and the man-of-many-hats, Pandoro, Pando Calrissian, rented a car and took a 4 hour road trip from Redding, CA down to The Bay to pick up part of our stage set. While we drove, Scott and Rodrigo rented a truck and loaded up our gear and went down to Petaluma to the Mesa Boogie factory to get new grills set in our Boogie cabs and swap out the head cases back to our original 5150 cases. Unfortunately the new Kryptonite cases were flimsy pieces of shit.

Our long time art collaborator Strephon Taylor and I had been designing this stage set for the last couple months. We brainstormed needing something that would translate in the daylight, as there are no lights on the Jager stage or need for them at 5 in the afternoon. To watch all the pieces of the puzzle fall into place bit by bit was fucking cool as shit. These frankly bad ass MH Flag Standards that he helped design were to be turned from a 1 dimensional drawing into a 3 dimensional reality, all 12 were supposed to be done on this day, but when we got there only one was ready. It ended up being a blessing in disguise as we had a few questionable ideas about how we were going to paint them, and it gave us the time to re-think it.

Luis at AAA Flag made the banners we had mocked up and did a sick job, and Jose over at Accurate Staging designed the banner supports as well as delivering everything! Both companies did top notch work, and both of these guys went way above and beyond.

I crashed at my pad all too briefly and the next day Pando and I picked up the Flag Standards, drove 5 hours to Fresno, where Phil, Jared, Phil's buddy Shack, and later Dave, immediately began priming and spray painting the 12 standards in the 106 degree Fresno heat. As this is happening, get this, a car crashed into our bus!! This is Machine Head and this shit happens, but you know what? We went and played another over-sold-out show to a fuckin' rabid maniacal audience, where the temperature rose to at least 120 degrees inside.

Easily it was the hottest show I can remember in a decade, and running outside to cool off in the still 95 degree weather didn't do much. Fresno was fucking insane!!!!

Next day we got to Mayhem, bumped into Mark from Suicide Silence who totally saved the day helping us out, our buddy Gerardo was a hero in painting the rest of the standards and by the time we walked onstage to play our first show, the vibe was palpable. I'm not one to brag and I'll be the first to admit if we played like shit, but man, we KILLED it that first day! It was such a good feeling to know all the preparation, all the work leading up to this, to see it all come to life, the stage, the merch, the banners and the flag standards, it was fuckin' epic! I was really proud of us for pulling it off.

Don't miss this tour, Mayhem is crushing across the US!


Source: The General Journals