MACHINE HEAD NEWS!
July 22, 2014, posted by Crumbs.
The General Journals: And Then I Puked In Bunk Alley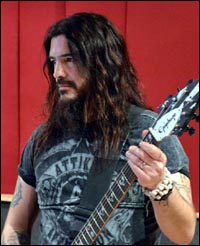 Thanks so much for all the birthday wishes friends!! It was EPIC indeed!!

Demmel and Jared got the Rock USA crowd to sing "happy birthday" to me, Kerry and Gary from Slayer were side-stage hangin'. As per our long-standing tradition (I think 15 years now) the boys all got me a giant cock cake (this one was a white cock, as opposed to last years giant black cock cake), complete with a balloon in the head that spooged when you cut it (gross and awesome all at the same time!).

Dave's family and a bunch of friends from Chicago rolled up and we shacked up side-stage and watched Slayer crush, screaming along and banging my head so goddamn hard my neck still hurts.

Got to Skype with the kids and wife, which was really awesome as I hadn't been able to connect on this tour yet. Then the Chicago Crew and I proceeded to get even more hammered! Brown Eyes and Shock Tops with orange were the bevy's of the evening.

After a while I was watching Five Finger Death Punch and seeing double and triple, so stumbled back on the bus, where my road crew were savvy enough to put this old man to bed, and then as the Brits say "...it all went pear shaped"

Next thing I know I'm spinning in my bunk, then I'm all 4's, and then... I puked in bunk alley. DOH!!! My ever-awesome road crew Darian and Rodrigo were angels and cleaned it up for me. And surprisingly, I eel fine this morn.

Cock Cake - check
Slayer on birthday - check
Puking in bunk alley - check

BIRTHDAY RAGING SUCCESS!!!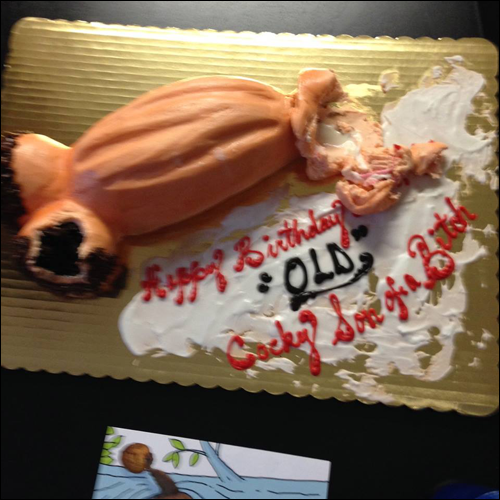 Subscribe to The General Journals: Diary Of A Frontman... And Other Ramblings
http://thegeneraljournals.hosted.phplist.com/lists/?p=subscribe

Visit The General Journals archive: http://machinehead.tumblr.com


Source: The General Journals
TakeMyScars.com - A Place Dedicated to the Mighty Machine Head!