MACHINE HEAD NEWS!
July 15, 2010, posted by Crumbs.
The Flynn Vault of Doom!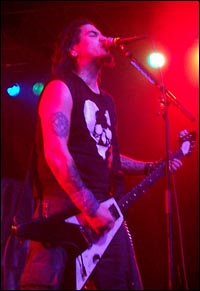 MACHINE HEAD frontman Robb Flynn has posted the following message on the band's official web site:

"The Flynn Vault of Doom!

"Like any normal person does after touring the world for three years, I came home, sold my house and moved! Yay! No sitting around and watching TV, lounging around and relaxing — no way Jose, that would be too easy [*cough*] but the new pad is rockin', a lot more space, and Jesus, I'm practically out in the country now here in our new adopted home of Martinez, California.

"We had a flock of about 50 wild turkeys walk thru our backyard the other day. Crazy!? (Side Note: That's my backyard in the 'Die Young' video).

"The coolest thing about moving though, was that I unearthed and went through the 'archives,' and man, what a cool trip down memory lane. Shit I hadn't seen in probably a decade (or two).

"As MACHINE HEAD coolly cruise into our 18th year as a band (first show was in August '92, but we had been jamming as a 4-piece since April '92), I thought I'd share some of 'The Flynn Vault of Doom' with you guys, and also thought that if you're interested, you could share your stuff with us!

"It would be really cool to see old flyers, ticket stubs, maybe a random picture or two, anything from '92 to '95 that isn't already floating around the Internet. Not really interested in magazine articles/photos, we're thinking more memorabilia-oriented stuff.

"So if you have access to a scanner, scan your shit (the higher the DPI the better) and shoot it over. Don't have a scanner? Take a hi-res photo and send that over! Shoot whatever you've got to mike@machinehead1.com, we'll add the coolest random stuff to the next diary along with your name!"




Check out some memorabilia from "The Flynn Vault Of Doom" at this location.



Source: Machinehead1.com
TakeMyScars.com - A Place Dedicated to the Mighty Machine Head!