MACHINE HEAD NEWS!
December 22, 2011, posted by Crumbs.
The Faces of The Eighth Plague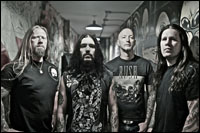 During the intro and outro of "Who We Are" on the recently finished Eighth Plague tour, Machine Head displayed fan testimonials on their projection screens that had been captured at that nights' show. The shots featured die hard fans that had stood in line for up to 10 hours before the doors opened, who, for their their dedication and passion, had their faces and messages shown on the three on-stage screens. They became known as The Faces of The Eighth Plague. Machine Head plans to continue doing this on their upcoming U.S. run, so be on the lookout!


Source: MachineHead1.com
TakeMyScars.com - A Place Dedicated to the Mighty Machine Head!